The Library is the powerhouse of knowledge. It not only generate knowledge and information but also energies the mind of the reader. Library is the meeting place of great minds, interacting at the highest level of their intellect.
The library has the collection of more than 12,155 books & 1475 titles. In this collection there are a good reference sources & among them are number of dictionaries.
A part from the regular collection an attractive feature is the amalgamation of Journals & Magazines of which 7 newspapers. It is worth mentioning that approximate 1000 books added to the library.
A part from regular print collection, the library has developed the its non-print collection like CD's etc.
Books approval should be taken by faculty member & students requirements. Shelving have done by the subject wise. Classifications of books were done by DDC 20th Ed.
Services: Library being a service oriented department gives valuable service to users.
Lending of Books: Library extends lending facilities to all type of members while (Subject to increase of demand) , the teaching staff issue 7 books at a time. Students enjoy the benefit of weekly issue of one book which can be extended further for another week and reference cards students can take more than 3 books for reference only.
Photo copies / Xeroxing Services in college campus.
New book arrivals: The new book, which have been purchase by the library, should be known to the reader; for that purpose the new books are displayed on new arrival on display board and after one week they are available for issue
Journals Lending: The Journals and Magazines are available for reading in the library.
Reports and Project: BSCIT, BMS, and BBI all projects and reports maintain for the students reference.
Question paper service: The previous five years question papers of all the courses and all the examinations are available in the library.
EX-Students Membership: The Library not only caters to its present students but also the ex-students of its college & students who wish to continue their studies from distance education or are preparing for competitive exams. They can also become members, of the library by paying Rs. 200/- to 500/- per year and avail of the facilities of the college library.
News paper clipping and college information: Library has newspaper clipping of the college news which has appeared in the local as well as national newspaper. Useful articles were displayed for the students knowledge.
Inter library reference service : Library has automated (Computerised) its collection database by using E-Granthalaya software. Students and staff can view the collection from the OPAC (Online Public Access Catalogue) facility. Computers are kept in the computer lab for the OPAC facility.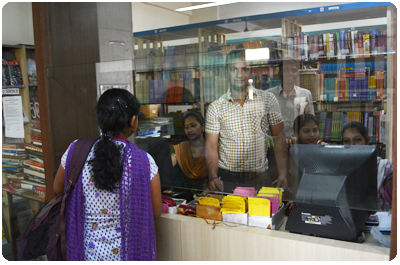 | | | |
| --- | --- | --- |
| | Built-up Area in Sq.m.  | |
| SR.NO. | PARTICULARS | AREA IN SQ.M. |
|   1 | Library Counter | 13 |
|   2 | Library Stack Room | 504 |
|   3 | Reading Room (Girls and Boys) | 1240 |
|   4 | Reading Room (Faculty) | 165 |
| | TOTAL | 1922 |
|   | Seating Capacity  | |
| SR.NO. | PARTICULARS | SEATING CAPACITY IN NOS. |
|   1 | Reading Room  (Girls and Boys) | 60 |
|   2 | Reading Room ( Faculty) | 55 |
| | TOTAL | 115 |
| | LIBRARY ADVISORY COMMITTEE | |
|   | Principal | Chairman |
|   | Faculty of Commerce | Member |
| | Faculty of B.Sc. – IT | Member |
| | Faculty of Computer Science | Member |
| | Faculty of Banking & Insurance | Member |
| | Faculty of Mass Media | Member |
| | Faculty of Accounting & Finance | Member |
| | Library Assistant | Member |
| | Librarian | Member |
| | LIBRARY STAFF  | |
| | Librarian | B.A., MLI sc |
|   | Library Assistant | M.A. B.Ed |
| | Library Attendant | S.S.C. |
| | | |