REPORT ON INDUSTRIAL VISIT TO SILVASSA
Industrial visits are usually the first point of interaction between a student and a live working industry. The students learn about the latest technology trend and make up their minds about their future job or area of interest. Main aim of industrial visit is to provide an exposure to students about practical working environment. They also provide students a good opportunity to gain full awareness about industrial practices. Through industrial visit students get awareness about new technologies.
Industrial visits also seem to present networking opportunities for the students with the company's HR, thereby increasing the opportunities for internships, placements, etc., for students. The domain wisdom and practical outlook towards the industry & requisite skills for the industry is also known to the students.
With this intent industrial visit was organised for the Third Year Students of All departments. The overall co-ordination with tour operator and students was taken care off by Dr. Roselin Linitta (Co-ordinator) and Prof. Abdul Qadir Sharif (HOD – BBI)
Date: 10th & 11th March 2023
Location: Silvassa Stay: Khanvel Resort (4 Star property)
Industry Visited: Manfood Pvt Ltd & Exclusive Linen Fabric Pvt Ltd
Faculty Visited: Prof. Bushra Ansari, Prof. Zahid khan, Prof. Zaibunnisa Hafiz, Prof. Salman Dhokadia, Prof. Ameer Shaikh & Prof. Nilofar Tamboli
Number of Students:
BCOM: 15
BAF: 32
BBI: 03
BMS: 32
IT: 5
CS: 7
Total – 94 students went for the visit
The journey commenced early morning around 7.00 am from college premises and after a travel of 5 hours they reached the location. Once the students got freshen up they were served with lunch and post that students were taken to Manfood Pvt Ltd, a manufacturer of Parle – G biscuits.
Students were shown a proper detailed video description about the manufacturing process of various Parle brand biscuits. After the video screening students were taken for live observation of the manufacturing process where they interacted with the site supervisor and workers. Many students enquired about various doubts which was cleared by the concerned authorities.
After the industry visit students were brought back to the resort where for their recreation they were given Pool area and DJ party so that they can have some enjoyment which was followed by dinner.
Next morning students were again asked to be dressed formally and taken to Exclusive Linen fabric Pvt Ltd, a manufacturing plant making Linen Fabric right from the scratch of making thread as well. Student got to see various huge machineries used in fabric manufacturing. Students enquired about Logistics, material handling, supply chain, HR,etc related queries to the incharge and workers over there.
After the successful industry visit students were taken to Butterfly garden for recreation which was followed by Lunch at the resort.
The journey back home commenced at 2.45 pm from Khanvel Resort and students reached at the Sanpada College premises by 7.00 pm safely.
Students were given a detailed questionnaire asking about their overall learning from the visits.
INDUSTRIAL VISIT OF COMPUTER SCIENCE STUDENTS
Date of Visit : 26/8/2019
Class : TYCS
Students Count : 28 (11 Girls+17 Boys)
Faculty : Prof. Smita Negi / Prof. Ali Ahmed
Industry Name : STPI
Plot No P1, MIDC, Hinjawadi Phase 1 Rd, Hinjewadi Rajiv Gandhi Infotech Park, Pune, Maharashtra 411057
Place : Pune
One day industrial visit was planned for T.Y.BSc.CS students on 26th August 2019. A total of 28 (11 Girls+17 Boys) students visited industry in Pune. The journey started through luxury bus (50 seater) from SCCT college at 8.00 am. Breakfast was distributed in the bus itself. We reached at Pune around 11 a.m. The name of the industry in Pune was S.T.P.I.
Students were taken around the campus and were explained about the equipments ( NOC, MUX, Co-routers, STACKS, transreceivers etc )and the server room. Detail explanation about the functioning of the various equipments was given. Students showed keen interest and had quite an interactive session with the speaker Mr. Mukul Sharma who was also the Assistant Director of STPI. After the session all students were taken for lunch at a nearby hotel. Around 2 pm lunch was served. Students were taken for sight seeing to lonavala at rajmachi point where they enjoyed a great view of the valley and photo sessions. Around 5.30 pm the team left from lonavala and reached at 8.00 pm at sanpada safely. By 8.05 pm all the students and staff dispersed.
About STPI: Software Technology Parks of India was established and registered as an Autonomous Society under the Societies Registration Act 1860, under the Ministry of Electronics & Information Technology, Government of India on 5th June 1991 with an objective to implement STP Scheme, set-up and manage infrastructure facilities and provide other services like technology assessment and professional training.
Process development is based on the Quality Management System. Software Technology Parks of India centre also adhere to ISO 9001 certification.
INDUSTRIAL VISIT OF IT STUDENTS AT PUNE
Date and Time : 26th August 2019
Department : B.SC.IT
Venue : Software Technology Parks of India, Plot No.P1,MIDC, Hinjewadi , Pune, Maharashtra 411057
Report
Prepared by : Prof. Vidula Kulkarni
No of Students : 58 (Boys -39 and Girls-19)
Sanpada College of Commerce and technology's , IT department was organised Industrial Visit at Software Technology Parks of India (STPI), Pune on 26th August 2019. The objective of the industrial visit was to comprehend the wireless communication.
STPI is a society set up by Ministry of Electronics and Information Technology (MeitY) , Government of India, with the objective of encouraging ,Promoting and boosting software experts from India. STPI is statutory body, internet and incubation service provider. The headquarter of STPI is located in New Delhi and having 59 setup across the country. Mr. Mukul Sharma (Assistant Director of STPI) coordinated the entire visit and was the resource person for the visit.
Mr.Mukul described wireless local loop with local multi-drop system. The system consist of routers, firewall, multiplexers, microwave link etc.
The participating students have collected the information of site in questionnaire available with them. They have also interacted with company staff to collect the information and update their skills with the upcoming IT field.
Industrial Visit at CETTM, MTNL , Powai
Industrial visit was carried out at CETTM, MTNL Training center, Powai on 20 January 2018. The main objective behind the visit was to make students aware about Mobile networking, Telephone exchange operations (landline) and Broadband networking that are being carried out in the company. Prof. Vidula Kulkarni, Prof. Smita Negi, Prof. Ali Ahmad were also present with T.Y.B.Sc. IT and T.Y.CS students .
Center for Excellence in Telecom Technology and Management (CETTM) is an ISO 9001:2008 certified institute, established by MTNL with state of the art facilities to impart training in Telecom Technology and Management Studies. CETTM enables professionals to acquire knowledge and skills to perform effectively in the rapidly advancing telecom and information sector. The session ended with vote of thanks. Next in the schedule was visit at different labs in CETTM.
Industrial Visit 21 Jan, 2016
Introduction:
Francis Bacon truly said, "Travelling is a best part of knowledge, adventure and experience."
The Bachelor of Mass Media (BMM), Bachelor of Information Technology (B.Sc. IT) and Bachelor of Computer Science (B. Sc. Comp. Sc.) involves in greater emphasis on practical exposure to the media and the world of technology. Establishing a connect between the course content & their practical application enhances the understanding of the students. It was the wish of the parents, students, teachers and the management. There were 117 students (girls and boys) escorted by the team of the professors beyond Maharashtra state.
For more detail Click Here…
---
FYBSC IT/CS PUNE-2015
TY IT BANGALORE 2015
TY BMM-Bangalore-2015
FY BMM Pune-2015
SANPADA COLLEGE OF COMMERCE AND TECHNOLOGY (BMS,BAF & BBI. DEPARTMENT) MUMBAI – BANGALORE
Industries that can be visited with prior permission :- C-Dac, IIIT., I.I.M.B, I.I.S.C., Wipro, Infosys Visvesvarya Technical Museum. H.M.T, B.H.E.L, Jaico Volvo Automobiles, Karnataka Soap Ltd., Pepsico, Kirloskar Automobiles etc.
SANPADA COLLEGE OF COMMERCE AND TECHNOLOGY (I.T. & BMM DEPARTMENT) MUMBAI – BANGALORE
Industries that can be visited with prior permission :- C-Dac, IIIT., I.I.M.B, I.I.S.C., Wipro, Infosys Visvesvarya Technical Museum. H.M.T, B.H.E.L, Jaico Volvo Automobiles, Karnataka Soap Ltd., Pepsico, Kirloskar Automobiles etc.
The College use to conduct Industrial Visits to all the streams every year smoothly and safely.  It gives exposure and travelling experience to the students. They become self confident and learn how to live out of their home. Industrial visit gives practical knowledge of the industries.   They upgrade their knowledge. Most of the faculty members also joined the tour and help the students in various industries.
Company Visited :- T Y & SY I. T. AT PUNE FOR THE INDUSTRIAL VISIT
DSK SupInfo Com International Company (Animation, Industrial Design and video games) > One of the recognized design schools of the world with a tremendous International Exposure > It has well developed hostel with an in-build canteen > It has a seven floor building campus. > The five year program trains the students to become digital directors. > Students are trained in a studio-like environment, closely monitored by specialised trainers from the animation > industry. > Placements-national and international. > 100% job placement(based on performance) > Entrance exam > All kinds of modeling equipments available in campus. > Indoor and outdoor games available for students. > Specialized training dedicated to the mobility of goods & people > Specialized training in emerging areas of high potential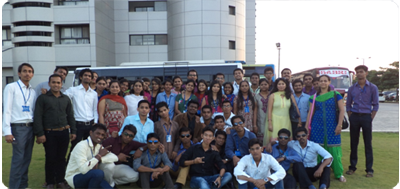 INDUSTRIAL VISIT – JAN-2014 AT PUNE
The Bachelor of Mass Media course involves greater emphasis on practical exposure to the media world. Establishing a connect between the course content & their practical application enhances the understanding of the students. 43 students of BMM were taken to Pune as a part of Industrial Visit prescribed by Mumbai University. There the students visited the Indian Express Press & All India Radio Center during the span of 2 days – 10th Jan to 11th Jan, 2014. Students left from the college campus early in the morning on 10th Jan, 2014 accompanied by two faculty members – Mr. S.S. Bhandari, the Chief Co-ordinator & Miss. Shweta Deshpande, Asst. Professor. On the same day, post lunch, students visited the press. The various experts introduced students to all the processes of printing the news paper. They showed the various stages of the printing process – right from designing the pages to dispatching the bundles in trucks.
The students keenly observed every single aspect of the process, machinery & techniques. They not only showed interest in learning the complex process & techniques but also actively produced intelligent questions.
The Production Manger Mr. JayKumar Nair was very kind to permit the video recording of his interview taken by the students. He appreciated the interest shown by the students.
On the very next morning, students were taken to the AIR Center, Pune. They were not only explained the technical aspects of the functioning of radio but also given an insight on the actual broadcasting process. Mrs. Sudha Dharmadhikari (Electronic Asst. Mgr.) & Mr. Baban Karande, who chose to be the guide for students explained in details the different processes & functions performed in the organization. Students were also fortunate enough to witness the live show by Mrs. Anushka Bendre that was on-air from 12noon to n1pm. With these informative visits, the 2nd day ended with the students enjoying the sightseeing &shopping in picturesque Lonavala & later departed towards Mumbai. The visit not only gave an insight of the media functioning in the organizations & in its various departments but experienced the practical application of the theory they study & also pressures & etiquettes followed to industry.