TECH HUNT 2020

Software Quality und Aptitude Discovery: TECH HUNT 2020
Universities & Colleges are doing the noble work of empowering individuals thereby building great society & nation for years. SQUAD Infotech Pvt. Ltd.,a Professional Training Center for Software Testing in association with Mumbai University conducted "SQUAD TECH HUNT 2020" at SCCT college, Sanpada on 18th Jan 2020, Monday.
An inter college competition, aiming to encourage students to participate in the techno entertainment event and to discover the programming & Aptitude skills amongst students which is beneficial to build their career in IT industry. The test was conducted using the App SQUAD online lead by one of the team member from SQUAD, Ms Somaiya Khan. Final winner will get Prizes & college will get trophy of winner, which will be a rotating Trophy as every year it is going to be conducted.
Affiliated with Mumbai University, all FY,SY,TY B.Sc.(IT) and BSc.(CS) students appeared for this contest. Shortlisted candidates will appear for final round at Mumbai University on 28th Feb at 9:30am at MUMBAI UNIVERSITY Marathi Bhasha Bhavan Hall, Kalina,
The main objective is:
• To Judge and reward knowledge of student – Python (For FY B.SC IT "C" Programming)
• To make them aware about the job opportunities and skill requirement in IT industry
• To make them aware and motivate them about the various test which they need to face in future as a part of their assessment.
Prizes for Participants (First 3 winners)
1st Prize: Laptop
2nd Prize : Tablet
3rd Prize : Mobile

---
BMS DEPARTMENT EVENT COGNITE
The BMS department of SCCT conducted their one-day event – COGNITE on 14th September 2019 which was held in the Seminar Hall.
The event started with the idea of imparting knowledge of the management concepts learnt by the students in their curriculum. The events focuses on giving the students practical experience in the form of events and competitions.
The event was graced by Hon. Prof. Javed Khan (Ex-Education Minister, President of OES) and Mr. Shariar Karim (Corporate Trainer & Management Consultant)
The event was lined up with management activities all throughout the day. After the inauguration of the event, Hon.Prof. Javed Khan motivated the students on "how to be career oriented and focused, constantly striving towards their goal for success." The event was also graced by the presence of respected Principal Prof. RaoSaheb who gave his wishes to the department and the students by appreciating their hard work and enthusiasm. The ambience of the Seminar Hall stole the attention of the crowd. The wonderful artwork was created by Akshay Chaurasia, Rahul Prasad, Naveed Shaikh Mansi Barua and student representatives of BMS. Beautiful posters, sketches and quotes were aptly mood of the event. COGNITE commenced with a competition of PowerPoint Presentation, wherein the enthusiastic students of BMS department participated and presented varied topics of Business Management. The event was judged by Prof. SaherKapdi (Operations Manager at OES). The second event of the day was Ad-Mad show which displayed the knowledge of the Management students who had presented their innovative ads which were put up on the screen for evaluation by Prof. Saher.
The Chief guest Mr. Shariar Karim
addressed the student and presented an elaborate speech on how to control human mind and to use our emotions in the right channel. He narrated about the power of human mind and how it helps every single person to challenge and transform an individual to a conqueror. He motivated the students to be brave and face the real world with confidence. Apart from these managerial activities students also had ice breaking games like Corporate Dumb Charades and Corporate Fashion Show which was judged by Prof. Ashara Saudagar
The event concluded with the prize distribution ceremony wherein all the
students celebrated the success of their fellow mates. The celebration doubled when Mr. Sairaj and Ms. Amoka were announced as Mr. COGNITE and Ms. COGNITE respectively,
COGNITE was a great success only because of support and guidance of the President Prof. Javed Khan (Ex- Education Minister) and our respected Principal, Prof. RaoSaheb.
Prof. Mustak Deraiya, the HOD of BMS department,
rightly called as a mentor and the department delivered the vote of thanks to the judges, faculties who organised the event, the volunteers, audience and the participants.
Prof. Mustak Deraiya
(HOD BMS Department)

---
TRINOVA 2019
The college celebrated intra- departmental college festival " TRINOVA"- on 24th August 2019 with around 9 events which was organised by a very enthusiastic band of students and teachers of the commerce departments – BBI, BAF & BCOM. The event gave the platform to the students to express themselves through different activities The chief guest of the event was Dr. Rajeev Manrao – CEO, RM123 India – Trainers & Consultants. Having more than Three decades of experience in Top Management- FMCG, Supply Chain, Manufacturing & Service Industry.
The festival was inaugurated by lighting the lamp by the chief guest and Principal Prof. Rao Saheb, Vice Principal Prof. Sheela W. and the HOD's of the concerned departments.
The Introduction to TRINOVA was presented by Prof. Sarah S. Samuel HOD – BBI Department in which the Journey of the event and the glimpses of TRINOVA was presented and the Vote of thanks was given by Prof. Sabnoor Fatima Khan HOD – BAF Department.
The students showcased their extra curricular and co-curricular talents in the events which were organised in "TRINOVA" . The events were Poster Making where the students made around 200 charts relating to their curriculum as commerce, Innovation in Business, social causes, environment, economics, Digital India etc.
The students also showed concerned for the environment by making best use of waste and unproductive materials. They displayed their products in best of the waste competition.
Event of Essay Writing conducted in the classroom, in which the students participation was excellent topics related to Innovation is the key determination to economic growth and social welfare and Global world.
The next event was conducted in the seminar hall was Quiz was conducted which was the next event in which the students showed their skills in commerce, business and basic general knowledge.
The next event was product promotion where the students marketed their products and used unique selling proposition USP to showcase their marketing skills.
The next event was conducted in the classrooms SPELL BEE – the power of correct spellings…
The final event was conducted in the Lobby was Skit which was the event in which the students showed their acting ability and Management finance banking awareness related skit was performed by the students.
Food stalls were organised by the students and they were appreciated on their return on investments and Best managed stalls. Overall Food stalls were completed handled and executed by the students.
The Festival concluded with Prize Distribution Ceremony. The winners of the competitions were awarded certificates and trophies.
Prof Sarah Samuel
(H.O.D BBI Department)
Prof. Sheela W
(Vice- Principal)
Prof. Raosaheb
(Principal)
---
COMPUTER SCIENCE SEMINAR ON PROJECT IMPLEMENTATION
Seminar on CYBER SECURITY
A seminar dated 9th August 2019 was conducted for FYCS and SYCS from 8.30 to 9.30 am at Sanpada College of Commerce & Technology on Cyber Security in room no 507. The seminar duration was 1 hour and was taken by Mr. Prajyot Chemburkar, an EC council certified person in Ethical hacking.
The speaker started with the importance of Cyber Security, then discussed about the vulnerabilities in the systems in this digital era by a simple demonstration of real time hacking. He also explained about the basic necessary steps to be taken to protect the digital life.
One of the precautionary measures that must be taken includes downloading apps from a reliable source and checking the permissions asked by the apps, if the apps insists for sensitive data like phone location, phone contacts, etc then its advisable to uninstall the app and look for other alternatives.
All in all, the seminar was found very interesting and informative by the students as per the positive feedback given by them.
---
Seminar on "Project Implementation"
Seminar on Project Implementation was conducted in 9th August 2019 in Seminar Hall at 10.20 am. The Seminar was conducted by Mr. Rupesh of SQUAD Infotech. He is the trainer in the same organization having immense knowledge in various software applications.
Project Implementation is the subject of TYCS curriculum introduced in new syllabus from year 2018-19, included in both 5th and 6th semesters. Majority of the students had selected the topic of online applications as their project titles. So, the seminar was mainly concentrated on Website creation and considerations. The speaker had talked about how the web pages can be created. Further he explained Web Site Designing considerations involving the basic Web components, Domain Registration, Web Hosting and process for effective website design.
The seminar had helped TYCS students to improve their ideas and clear their queries regarding the development of project.
---
REPORT ON EXPERT LECTURE IN DATA SCIENCE ON 12/1/19
Seminar was conducted by Department of CS/IT for TYCS and SYCS students. The key speaker was Mr. Amit Arun Gawade from Livewire. He is M.Tech(CS) graduate with 8 years of teaching experience. He was been accompanied by Ms.Manisha and Ms.Vaishali. The speaker had delivered the introduction of Data Science, importance of statistical analysis in business sector, how it is useful in social media by giving various examples and also the scope of doing further courses in Data Science. He also gave an insight as to how this field can be taken by students as one of the career options after graduation.
This expert lecture had given the confidence to the students to study more about this subject, since this subject is also included in TYCS curriculum.
---
CRM session sponsored by kaushal Vikas yojana

Venue: seminar hall
Date: 04:01:2018
Time:10:00 to 2:00pm
Students participated : 136
Students selected: 30
Financial literacy programme by SEBI


On 23:02:2018 financial literacy programme sponsored by SEBI was conducted in our college by miss Sushma G Das.
From – 10:30 am to 12:30.
The event was highly appreciated by students as well as teaching staff which covered topics such as Investors awareness programme. How to stay away from frauds n scams.
---
SEMINAR ON PROJECT DEVELOPMENT BY PROGNOZ TECHNOLOGY (25th JANUARY 2018)

The seminar was attended by students of Third Year classes (TYCS &TYIT). Students were made aware of the Software Development Life Cycle. The speaker emphasized on how to develop the TY Project with all the phases of SDLC. The program covered introduction to Design phases, Diagrams and software development in Asp.net. The Lecture was delivered by Mrs. Vaishali venkat Reddy


The Objective of the seminar was to:
To provide knowledge of Designing phases.
To provide knowledge of SDLC steps
To make student ready to develop the project.


Content of the Seminar for PROJECT DEVELOPMENT
Introduction
SDLC steps
Class and ER diagrams
Demo project execution
Future enhancement of project
---
---
Report on Seminar on data analyst /business analyst, vashi (28th June 2016 )
The Seminar was on the topic Big data and learning data analysis tools which can help in making important business decisions. It was taken in two sessions. One for TYBSc(I.T) / TYBSc(C.S) students and second for the TYBMS students.
---
Report on Seminar on Linux System by Aptech ,Vashi, (27th June 2016 )
This seminar was conducted to develop some interest in TYBSc(I.T) students towards Linux subject. The topic taken was from the syllabus in sem 5. The session lasted for 1 and half hour from 9.10 to 10.30 am. It was conducted by the director of Aptech Institute, Mr. Manish Singh of vashi branch. The session aimed at educating students about the features of Linux and its dominance in market as compared to other OS.

Topics covered were:

>Role of Linux system administrator
>File system, TCP/IP networking
This session will enlighten students on the scope of Linux OS and career opportunity.
---
Report on Seminar on Certification course by ATS infotech on Android App development(16th June 2016 )
It was the first seminar conducted in the new academic year 2016-17. It was attended by TYBSc(I.T) and TYBSc(C.S) students. The strength was around 100. It was conducted by Mr. Manish Singh. HE addressed the students and educated them on how it is important to have an additional degree other than the academic knowledge to have an edge over others in this competitive world by equipping yourself by doing certification and being certified although the response of students in going for the certification course was poor.
---
 THE FIRST CHAPTER OF BOMBAY ODYSSEY
15 January 2016 marked the inauguration of "Bombay Odyssey-A tale of talent", at Sanpada College of Commerce and Technology.

The very first "Clickture Photography Competition" was marked as the advent of Bombay Odyssey. A three days event which is giving its commuters an opportunity to voice their talent with the contest which comprises three categories – "Clickture", "Market-e-baazar" and "Screen on".

The event rolled in with Clickture which aims to celebrate beautiful photography passion that the new generation shares.

Dramatic skies, varying shades of colors, silhouettes, wild life are the few among the many fantastic photos that our newbie photographers captured.

Showcasing the embodiment of the spirit of SCCT students, the event was inaugurated by DR F.A Shaikh, Principal SCCT, in the presence of all the faculties.

Ritesh Krishnan, an allied fashion photographer in the industry, also head creative with Provogue, judged the Photo exhibition contest and graced the occasion with his elegant presence.

Under the patronage of Ivy Ganguly, HOD BMM Department, Professor Harjeet Kaur and Professor Mamta Mishra, turned out to be a massive hit of the day. While University Representative Rahul Singh Lalia, General Secretary  Ammaar Rizvi, Chairpersons Pooja Raorane and Shahbaz Khan shouldered to bring the Photo exhibition a great success.
---
NAAC SEMINAR REPORT (17th December 2015)
Kohinoor Educatioin Trust Business School conducted one day seminar on NAAC – An Edge in Higher Education on 16th December 2015 in Kokhinoor Business School Campus Vidyavihar Mumbai.
The programme began with lightning the lamp by the Chairman of KET Mr. S.G. Karve along with other eminent dignitaries. All the dignitaries were introduced and welcomed by the Chairman of KET.
The honourable Vice Chancellor of University of Mumbai Dr. Sanjay Deshmukh shared his views towards the betterment and the standard of colleges under University of Mumbai. He suggested that every college should get NAAC .
Dr. Jayasankaran, former Vice Chancellor, Kanchi University & Director General BIM Tiruchi; Dr. B. S. Madhukar, Dy. Advisor,NACC; Dr. Meena Chintamaneni and Dr. V.N. Magare, Coordinator & Member , Western Zone NAAC, guided how to prepare self study report for the Accreditation.
It was quite fruitful workshop. Kohinoor Business School paid tremendous hospitality. Dr. S.S. Bhandari and Mr. Sushil Jadhav attended the programme
The workshop ends by 6.00 pm.
---
IT WORKSHOP
A three day workshop was held from 20th July to 22nd July for the students of IT/CS department. The workshop aimed to teach students the basic security fundamentals conducted by Mr. Sudarshan and  Mr. Vaibhav an expert in this field. The students got hands-on experience using various software tools. It was a highly participative workshop. Students showed lot of interest and enthusiasm all three days of the workshop. More than 35 students participated in this workshop. A brief introduction was given by Prof. Smita Negi about the workshop. Prof. Ali Ahmed and Prof. Zulfikar Ahmed also attended the workshop along with the students. The workshop was a huge success and received good feedback from the participants.
---
SEMINAR FROM CETKING 10th September 2015.
There was a Career Guidance Seminar conducted on 10th September 2015.
Students from SY & TY student of BMS / BBI /BAF streams participated in this seminar.
The seminar was conducted by Mr. Ravneet Singh ( Director of CETKING) who is an alumini of IIM Ahmedabad. He shared his career experience with the students .
Mr. Ravneet guided the students regarding various jobs and streams after graduation.
This was an insightful of the seminar



---
BMS, BBI, BAF Day 18th August, 2015
Sanpada College of Commerce & Technology organised inter departmental event related to different topics under the title "PROFFINNOVAL" for Bachelor of Management Studies (BMS), B.Com. Banking & Insurance (BBI), B.Com Accounting & Finance (BAF) on 18th August, 2015 (Tuesday).
The main aim of conducting the events was to aware the students about the business world, to enrich the confidence and to come closure to each other. On this occasion most of the stream students performed power-point presentation on different topics. Winners were given medals and certificates. The principal, all the chief coordinators and coordinators were also present on this occasion.
---
GUEST LECTURE FOR BMM DEPARTMENT.18th July, 2015
A Guest Lecture for Digital Media Planning, Client Servicing and Social Media was organised 18th July, 2015 by the BMM department of Sanpada College of Commerce and Technology. The session was conducted by eminent industry experts. The guest lecturers for the day were, Mr. Rahul Banarjee- An account supervisor from Scarecrow communications. Ms. Ritu Ganguly- A Senior Executive from Omnicom, group and Kiran Bhatti- A client servicing and account supervisor from Scarecrow Communications. They spoke about mainstream advertising and client servicing as a career option for mass media students. And also informed the students about the working and functions of digital marketing and advertising. The students learned how digital media planning is done and about the efforts and idea that go in the making of an Ad and broadcasting it on social media so as to increase sales of the client's product.
BMM Department
---
BMM WORKSHOP
Sanpada College of Commerce & Technology invited some reputed companies to provide the career guidance and the personality development. Various aptitude tests were also conducted in our campus. Seminars were organized as per the stream. In this regard HDFC , LIONS CLUBS , APTECH COMPUTER, COLLEGE OF IT , VELOX SOLUTIONS, UTI , VODAFONE etc. took initiative and guided our students for the better prospect. Five students got opportunity and selected for job under the placement service scheme.
Besides seminars we also called different subject experts to deliver the lectures. In order to improve the performance of the T.Y.B.Com. students in Economics and Financial Accounting Papers of Mumbai University, the guest lectures were organised on 6th and 9th February, 2013 in the seminar hall of our college. The guest speaker for the Economics was Prof. Shakuntala Sharma and for Financial Accounting Prof.Minakshi Rochch. Both the professors were highly qualified with more than 20 years experience of teaching in their specialised subjects. The timing of the lectures was from 9:00 A.M to 11:00 A.M. Throughout the lectures both the professors shared their teaching experience with the students as well as guided them on preparation for the University exams.
The professors were very friendly with the students which enabled them to interact effectively with the students and to solve their various doubts, queries and problems in the subjects. Altogether 150 students attended the lectures. After attending the lectures all the students were fully satisfied with the lectures. They appreciated the efforts made by Principal Dr.F.A Shaikh, Chief Co-ordinator S.S.Bhandari, Prof. Sushil S. Jadhav ( Co-ordinator-B.Com) and The team of Star plus conducted three days workshop on Film Making, Shooting and Editing Movies. The work is going on as it is endless process
---
APPEAL TO RAILWAY PASSENGERS

Mumbai Railway Police organized a seminar for the degree college students on 3rd January , 2014, on the topic Precaution one must take while travelling by rail.
Senior Police Inspector , Shri Karyakarte warns every students to travel safely and do not create such situation which may be danger for the life. He showed a presentation which gave statistic figure of accident by local trains in Mumbai. He also presented a short video which inspire and aware the students about the journey by local trains. The presentation was praiseworthy and we are sure our student will take care in this respect. Mr. Bhosle, Police Inspector and his team were also present for the seminar.
The railway police department also gave some important helpline phone numbers to the students. There was also interaction between students and the Karyakarte sir. More than 150 students attended the seminar.
They insisted that student be "Better Safe than Sorry".
There was an appeal to all, to be responsible and prudent citizen, to avoid mobile while travelling, to take care of one's belongings and to inform the railway police if they find any suspicious thing/person. Really it was wonderful awareness program.
Sanpada College Principal, Dr. F. A. Shaikh, Chief Coordinator Prof. S.S. Bhandari
and the college seminar committee also joined the program along with the students. I am sure the students will take benefit of it.
Prof. S. S. Bhandari (Chief Coordinator)
Thank you for Indian Railway.
Mumbai Management Academy (MMA)
A workshop for third year students was conducted by MMA on 21st Dec, 2013 between 10.00 a.m. to 5.00 p.m. which aims to be one of the professional excellence academies.
The academy provides career focused professional studies empowering students with knowledge, skills and the exposures that will make them stand out in life, society and the nation.
The Managing Director of the academy is Mr. R. N. Ganguly helps in building a healthy relationship with different official corporate and industries for the growth of the employment in Mumbai.
The Chief Guest for the workshop was Shree Swasti Sovan Bhowmick , who is currently a Chief Financial Officer at Rediff.com India Limited.
Mr. Warren Taylor , Sr Manager HR at Brinks Arya shared his knowledge on careers and future growth in Cash Logistics.
Ms Bhuvaneshwari Balwande , who is a manager in HR in HDFC Asset Management Co. Ltd. shared her knowledge on career and future growth in Mutual fund and Investment Management.
Mr. Suresh Nimbalkar, Sr. VP at Hansa Research shared his knowledge on career and future growth in Market Research.
Mr. Ajit Biswas , Managing Director at AGS World Transport (I) Pvt Ltd. shared his knowledge on career and future growth in Logistics.
Ms. Anupama Ratta, who is the head of People Processes and Talent Acquisition shared his knowledge on career and future growth in Retail.
Mr. Prasad Rao , Sr. Manager of BOI shared his knowledge on career and future growth in Para Banking and Micro Finance.
Lastly Prof Faredoon Kapadia, who is the President of Atassh Consultant Firm extending Human Resource Consultancy and Behavioural Science Training Programme shared knowledge on career and future growth in Professional Excellence.
Mumbai Management Academy provides training where the students are trained as per the corporate requirement and the training is provided by the top corporate experts.
Most of the students and the professors from degree college joined the seminar.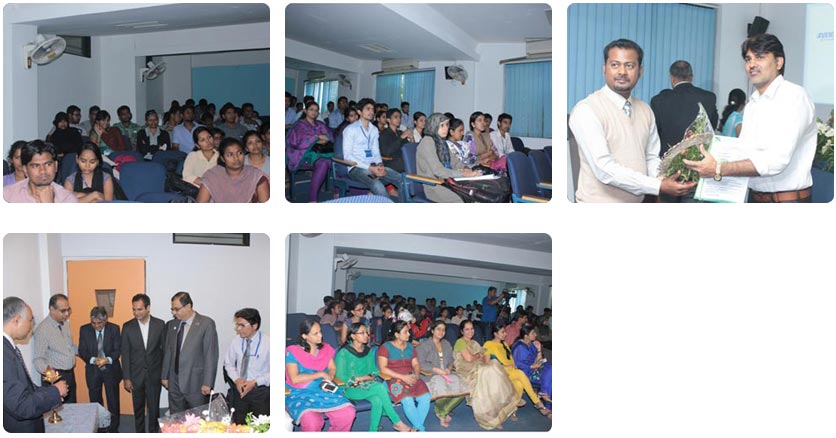 SEMINAR FOR TY B COM. BASED ON CURRICULUM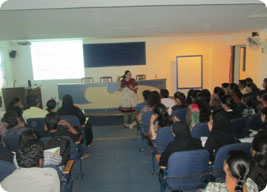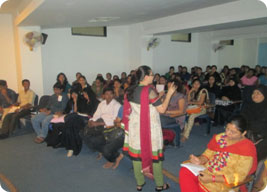 SUCCESS ACADEMY
Training in spoken English & personality development to enhance personality of student.
Group discussion
To equip students with interview cracking skill.
Presentation skill, language games, activities.
NIIT
The new age of learning for the students on Cloud Campus.
To boost the confidence and give them necessary experience.
 AEHI Advance Eye Hospital & Institute
Dr. Vandana Jain, the director of advance eye hospital and the Deputy Manager, Dr. Nilesh, arranged seminar on 'how to protect our eyes' – Navi Mumbai
Guide to health eye – Vandana Jain
Free eye check up – Faculty & students
SEMINAR ON 'ECONOMICS' SUBJECT
Institute of Computer Accountant
Conduct seminar for creating awareness among the students about the present requirement of employer in the sector of accountancy.
JETKING
Conducted INDUSTY AWARENESS PROGRAMME" which help the student to select career options our programme into developing students for challenges and requirement for their professional as well as personal life.
FINANCIAL PLANNING AND MANAGEMENT [FINPLAN]
To create awareness particularly those students pursuing graduation with the major in commerce.
FUTURE TIME
Training and personality development programme followed by placement.
GEEBE EDUCATION
Conducted seminar for "studies in abroad" for the students of BMS
SEMINARS CONDUCTED FOR THE I.T. STUDENTS
Sl No
Date
Topic
Presenter
Remarks
1
13/08/2012
Advanced
Java • Servlets & JSP ( Session Management with example from Homepage)
Ms. Ratika Sharma, NIIT
Vashi
Part of TYIT 5th Sem
Curriculum.
• Creating a servlet
• Compiling & Building a application
• Session Management
• Request, Response
• Cookies
• Servlet Context and Session
2
30/08/2012
Linux
Administration (• File Server
Mr. Amit Singh, Corporate
Consultant and Trainer, iECLAT, Vashi
Part of TYIT 5th Sem
Curriculum.
• File Transfer Services)
3
12/01/2013
Ethical
Hacking
Mr.
Ankit Fadia, Conducted by Jetking @ Jetking Office Vashi
Prof.
Smita Negi and Prof. Vidula Kulkarni attended the seminar as a part of
Faculty Improvement Program
4
17/01/2013
Youth
Empowerment
Mr.
Derick, AIESEC
Given
encouragemt to the youth to come in forefront.
5
19/01/2013
Ethical
Hacking
Prof.
Smita Negi, Prof. Vidula Kulkarni, Mr. Aniket Shedge (TY BSc IT)
Informative
and Knowledgeable
6
23/01/2013
Research
on IT 1. Data for Development, 2. Computer Games for Development, 3. IT in
Sports (Cricket)
Dr.
Milind Sohoni (Head Centre for Technology Alternatives for Rural Areas, IIT
Bombay), Mr. Sameer Sahastrabuddhe (Project Manager, Dept. Of CSE, Iit
Bombay, Mr. Devraj Raut (Video Analyst, BCCI) Organized by Patkar – Vade
College, Goregaon
Prof.
Anooja Nair and Prof. Vidula Kulkarni attended the seminar as a part of
Faculty Improvement Program
7
09/02/2013
Discrete
Fourier Transform
Prof.
Amit Ghare, MGM College, Kamothe
Part of
TYIT 6th Sem Curriculum.
8
11/02/2013
Personality
Development and Interviewing Skills
Ms.
Siena D'souza( Learning Consultant at BA continuum, Bank of America,
Certified instructor for Ken Blanchard Institute in Situational leadership
and development dimensions international) and Mr. Amit Singh, Corporate
Consultant and Trainer, iECLAT, Vashi
Guidance
for the students to behave themselves in interviews
9
11/02/2013
Discrete
Fourier Transform
Prof.
Amit Ghare, MGM College, Kamothe
Part of
TYIT 6th Sem Curriculum.
10
16/02/2013
& 23/02/1013
Workshop
on Job Interview
Team of
Corporate experts will going to conduct. It is being arranged by iECLAT,Vashi
Help the
students to overcome the jitters during Personal round of interview. Top 10
students resume will be submitted to various companies.